We have been the leading providers of Innovation Architecture across organizational boundaries for the last 15 years. Our goal has been to provide you the Best Processes and Practices that enable your company to create continous streams of innovation to generate sustainable competitive advantage.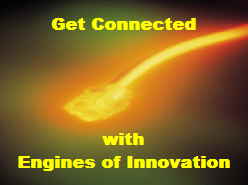 We offer several services that enable people, teams, and organizations to innovate and co-create together -- this is what we call the "ARCHITECTURE of INNOVATION."
We don't invent technology, we create the Strategies, Leadership, Legal Frameworks, Organizational Structures, Processes & Practices, and EconoMetrics that catalyze and enable innovation to flourish.
The best innovation requires DIFFERENTIALS in THINKING. Unfortunately, it is all too common when people and organizations with different approaches engage, they end up in conflict, anxiety, and turmoil, rather than productive performance. (If you want examples of this, look at the Middle East, the Balkans, the National Hockey League, etc.)
Using our highly successful and time tested Best Practice Architectural Framework, we can assure you that Innovation will flow, creating enormous competitive advantage.
Our goal is always to deliver the best and the most effective innovation processes. Your satisfaction is of paramount importance.
This is a small sample of the Engines of Innovation services we offer:
Full Scale Engines of Innovation Implementation: To Commence a Full Scale Engines of Innovation Program, we have a Full Scale Implementation Process that systematically addresses the right Strategies, Builds your Team's Capabilities, and imbeds the most impactful Best Practices, Executive Briefings, Leadership Training, Launching of Pilots, and Evaluation. This will make you the "Innovation Partner of Choice," which will attract other innovative companies to be your partner. It will also help you be successful with any acquisitions of innovation oriented companies.
Small Scale Implementation: If you want to start on a small scale, we have 3 day Action Planning Workshop Program that highlights the Core Engines of Innovation Best Practices for your internal team, and produces a concrete Action Plan for moving forward
Energizing Existing Relationships: Many companies already have existing alliances, supply relationships, and outsourcing deals that are not performing up to expectations. For these, we have two approaches:
Launching New Innovation Alliances: Fastart has, for over 15 years, proven to be the most rapid, cost effective, and successful means to initiate a new Innovation Relationship with a key Supplier, Outsourcer, Customer or Solution Partner.
For many implementations, the client company may lack good decision making architecture for innovation or innovation management practices. For situations where these elements are required, we partner with several other specialized experts to install a full package of innovation strategies, processes, and tools.
For more information or to schedule a program,
please email Robert Porter Lynch.
We look forward to serving you.